Note, on modern Volkswagen Group cars and some older vehicles (such as the Peugeot 106 or Vauxhall Astra) the +12V Ignition and Battery positions are reversed.
Attention:
The connector wiring may vary depending on the car manufacturer, even when ISO connectors are used. We recommend to check the car's wiring provision before connecting the car stereo.
Please pay particular attention to pin 5, where a misconnection might cause damage to the car or radio.
Take special care when installing into '98 or later VW/Audi/Skoda/Seat models as there may be a 12 V connection on Pin 5, which could damage the car stereo or into Ford from '97 or later , with an ISO connector, on which damage to the car's microcomputers is possible if misconnected.
Use of ISO connector adapters available on the market may facilitate installation.
The first connector A is always present, is usually black in colour, and contains pins for power-supply, off/on (typically controlled by ignition key), optional control for a motorised antenna and so on.
On some cars the +12V Ignition and Battery positions are reversed, such as later

Volkswagen group

cars,

Peugeot 106,

Vauxhall Astra,

Citroën C3.
Pin 1 is optional; used for speed dependent volume control and possibly navigation.
Pin 2 is optional; used for reversing lamp signal on Becker radios with navigation.
Pin 3 is also used for phone mute (Becker)
Pin 6 is optional; used for vehicle instrument illumination
The second connector B is for connecting four loudspeakers, front, rear, left and right, and is usually brown in colour.
The connector C is optional. Some times, it appears as one 20-pin connector, often red in colour, or it may be divided into three separate connectors which may be hooked together, in which case C1 is usually yellow, C2 is usually green which C3 is usually blue in colour. The contact spacing is narrower than the other connectors, so the C connector is sometimes referred to as mini-ISO.
Note: ISO 10487 only defines the physical attributes of the connectors, not the pin/signal designations, which are manufacturer-defined. The example above is oriented towards VW vehicles only.
ISO 10487 je standardi 8-pinski konektor koji se koristi kod autoradio uređaja (head unit). Ima kontakte za napajanje, off/on ( kontroliran ključem za paljenje), za zvučnike i automatsku antenu.
ISO Konektor A napajanje
PIN 1 - GALA Geschwindigkeitsabhängige Lautstärkeranpassung – or SCV speed-dependent volume control.
Ovaj pin se koristi u nekim autoradio uređajima za automatsko pojačanje glasnoće zvuka. Potreban mu je izlaz sa senzora brzine. Napomena: ako mjerač brzine prestane raditi kad je autoradio spojen, tada je taj pin vjerojatno uzemljen jer radio vjerojatno koristi taj pin za neku drugu funkciju osim za GALA.
PIN 2 - Mute control
– ovaj pin služi za stišavanje zvuka autoradia, uzemljuje ga neka druga vanjska komponenta npr. mobilni telefon koji je spojen na autoradio.
PIN 3 – RFLS
Ruckfahrtlichtschalter - the reversing light switch. Satelitska navigacija koristi ovaj signal, GALA signal (pin 1) i unutarnji laserski žiroskop za izračunavanje u odsustvu satelitskog signala. +12V ulaz na autoradiu s uključenim kontaktom na bravi za paljenje i auto je u brzini za kretanje unazad.
PIN 4
– stalnih +12V s akumulatora - napajanje za autoradio. Povezivanjem autoradija direktno na akumulator, nije potrebno imati ključ u bravi za paljenje. Neki moderni autoradio uređaji imaju automatsko isključivanje. Na ovaj priključak spaja se memorija autoradia.
PIN 5
– Automatska antena – izlaz iz autoradia +12V maksimum 150 – 300mA za napajanje automatske ili elektronske antene. Ako postoji mora se spojiti iako antena nije automatska. On također upravlja zvučnim signalom koji upozorava da su vrata otvorena.
PIN 6
– osvjetljenje +12V ulaz na autoradiju kad su svjetla upaljena. Kod nekih autoradia on zapravo osvjetljuje display – kod drugih može zatamniti osvjetljenje, zamjenjuje odnos crno na bijelo ili čak mijenja boju od zelene do narančaste. Ako tabla s instrumentima u automobilu ima funkciju regulacije osvjetljenja, taj pin treba spojiti kako bi se moglo regulirati jačina osvjetljenja. Žica od osvjetljenja upaljača za cigarete se može za to koristiti.
PIN 7 –
+12V sa ključa za paljenje kad je ključ u kontakt bravi na položaju ON ili ACC.
PIN 8
– uzemljenje, šasija, minus 12V
ISO Konektor B
-
zvučnici
· Pin 1 - Right rear speaker + zadnji desni zvučnik +
· Pin 2 - Right rear speaker - zadnji desni zvučnik -
· Pin 3 - Right front speaker + prednji desni zvučnik +
· Pin 4 - Right front speaker - prednji desni zvučnik -
· Pin 5 - Left front speaker + lijevi prednji zvučnik +
· Pin 6 - Left front speaker - lijevi prednji zvučnik -
· Pin 7 - Left rear speaker + lijevi zadnji zvučnik +
· Pin 8 - Left rear speaker - lijevi zadnji zvučnik -
Konektor B se koristi samo za zvučnike. Koja žica ide na koji zvučnik može se lako utvrditi s baterijom od 1,5V. Zvučnik će kliknuti i vidjet ćete pomicanje membrane unaprijed ili unazad. Zvučnici moraju biti pravilno fazirani (pazite na + i – pol na zvučniku) jer u suprotnom ćete imati slab bas. Žice za zvučnik su u paru, žica s prugom je + pol zvučnika.
C1 - external amplifier or equaliser
C2 - remote control
C3 - CD changer
Pin 13

- CDC data in (bus)

Pin 14

- CDC data out

Pin 15

- CDC +12v permanent

Pin 16

- CDC +12v switched - maximum 300mA (+A)

Pin 17

- CDC data ground (+U)

Pin 18

- CDC audio frequency ground

Pin 19

- CDC audio frequency left

Pin 20

- CDC audio frequency right
ISO konektor C
Konektor C su zapravo tri odvojena konektora koja su užlijebljena zajedno. On nije uvijek prisutan, ponekad samo dio postoji. Obično je priključen na uređaj kojeg podržava.
Car radio
connectors
ISO2
factory
(OEM) FAKRA
After 2000,
some
companies began to
apply the
new standard
connector.
It has now become
almost
standard
because
it
spun off
a separate
division
.
This type of
connector
is listed
under the name
FAKRA
.
It is a
connector
that uses
the CAN bus.
Many
signals are
transmitted
on
the
bus.
They are:
- Information on
the ignition
- Information about the
lights on
- Information on
speed
The next
step is to
transfer
control information
and
audio signals
in digital form
by means of
fiber optic line
.
The
connector
FAKRA
is
space for two
optical fibers
transmitting
and two
receiving
.
With the introduction of
this type of
connector
antenna connectors
have been changed
.
Quadlock
From 2000 and onwards, manufacturers, such as BMW, Citroen, Ford, Mercedes Benz, Peugeot, Volkswagen, Rover, Audi, Seat, Opel and Škoda have started using a 40 pin connector instead, called the Quadlock (or Fakra, after the manufacturer).
The Quadlock connector consists of a block of 16 flat pins analogous to the two main ISO 10487 connectors. While the physical contact pins are the same, the pin allocation is not entirely the same, and the connector housing is not compatible. In addition to the 16 pins, like ISO 10487, there are minor connectors for optional equipment. They fit within the frame of the main connector, and has coding so that they cannot be interchanged. Minor connector B has 12 pins for audio output signals. Minor connector C has 12 pins for various audio sources such as CD-changers, MP3 players.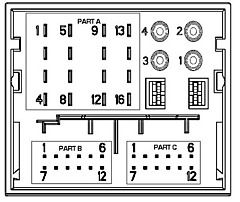 Quadlock A
| | | | | |
| --- | --- | --- | --- | --- |
| 1) right rear + | 5) right rear - | | 9) I-bus (BMW) | 13) antenna (out) |
| 2) right front + | 6) right front - | | 10) phone mute | 14) illumination |
| 3) left front + | 7) left front - | | 11) tel on | 15) 12V battery |
| 4) left rear + | 8) left rear - | | 12) ground | 16) 12V switched |
AUDI RNS-E Aisin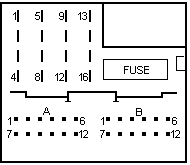 | | | | |
| --- | --- | --- | --- |
| Pin | Main connector | connector A (CD-C) | connector B |
| 1 | - | MOST Ring break | MIC IN - |
| 2 | Speaker RF+ | cd-changer line in gnd | RFLS (wsteczny) |
| 3 | Speaker LF+ | V-signal | line out FL |
| 4 | - | cd-changer +12V | MIC OUT - |
| 5 | - | K-line | line out RL |
| 6 | SpeakerRF- | cd-changer data out | telefon in - |
| 7 | Speaker LF- | BOSE pin | MIC IN + |
| 8 | - | cd changer line in L+ | line out GND |
| 9 | CAN H | cd changer line in R+ | line out FR |
| 10 | CAN L | cd-c +12V ster. | MIC OUT + |
| 11 | mute | cd-changer data in | line out RR |
| 12 | masa | cd-changer clock | telefon in + |
| 13 | amplifier remote | x | x |
| 14 | DWA-GND | x | x |
| 15 | +12V | x | x |
| 16 | +SAFE | x | x |
Fakra to iso adapter